Altra-Air Sailfin HVLS Fans
---
Altra-Air Sailfin HVLS fans blanket a very large area with constantly moving air to create an expansive comfort zone. As a result, this large ceiling fan can create an evaporative cooling effect of 3 to 4 degrees Celsius throughout the facility.
High Volume
Low Speed

Fans

The Sailfin Blade Design is a massive evolutionary step towards our most advanced airfoil yet capable of producing a 6mph breeze.
Altra-Air Sailfin HVLS Fans Stats
---
16°-23°
Varying Degree Angle of Attack
Lifetime
Warranty (Blades & Hub)
Altra-Air Sailfin HVLS Fans

Livestock adapts well to relatively consistent cold or hot conditions. Production is affected when there is a repetition of abrupt temperature swings. Properly designed ventilation will moderate or eliminate the abrupt temperature swings offering the animal the sensation of cooling under hot conditions and warming under cold conditions.
One of the great recent innovations in livestock ventilation is the very large (up to 24 FT diameter) HVLS ceiling fans.
Sun-North's sister company, Envira-North Systems manufactures the Altra-Air Sailfin series of ceiling fans.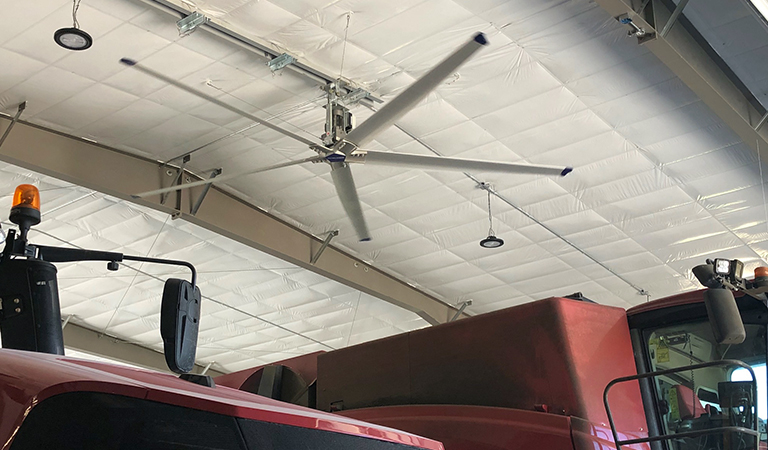 Fans range from 12 ft to 24 ft (3.7 m to 7.3 m) in diameter
Capable of moving nearly 315,000 cfm (148,000 l/s)
Up to 5.65 mph (9.09 km/h) wind gusts
Up to 212 cfm / watt
Operates on 1 to 2 hp (0.75 kw to 1.5 kw)
Creates a non-disruptive airflow
CSA and CE certified