---
The Dura-Lite Ridge Vent system provides plenty of natural light & ventilation resulting in an increase
in energy savings and livestock production.
Providing Natural Light & Ventilation
Along the Ridge of Your Facility!
Make Your Barn a Comfortable, Sun-Filled Environment!
Dura-Lite Ridge Vent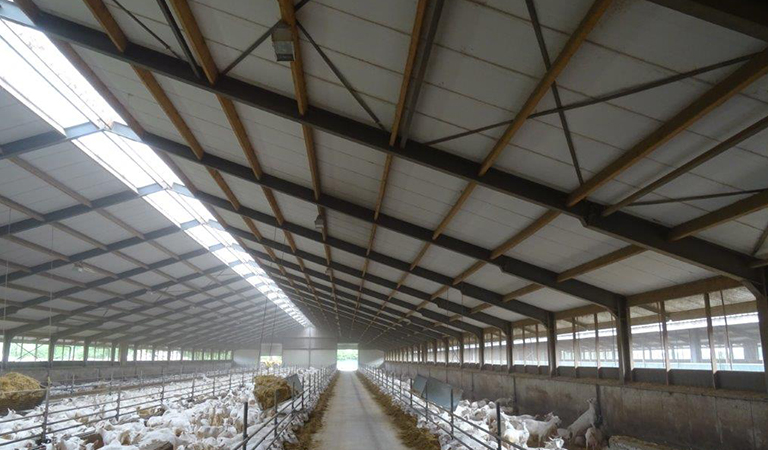 Our Dura-Lite Ridge Vent is the perfect product to assist in lowering your energy bill and decrease the amount of electrical lighting use in your facility! You can now replace your noisy & disruptive lighting with soft and natural light. Natural light will make your facility warm and inviting, lifting the comfort level of your livestock and employees resulting in increased production!
Sun-North Systems Ltd. manufactures and installs the Dura- Lite Ridge Vent system in a wide range of lengths and widths. Dura-Lite Ridge Vent can be custom made to retrofit an existing barn ridge system or tailor made to suit a new facility. Made from twinwall polycarbonate glass, Dura-Lite offers 99% light penetration. Due to the construction of the glass, Dura-Lite Ridge Vent endures all weather conditions offering high thermal resistance, while blocking UV transmission.
Twinwall polycarbonate glass endures all weather.
Offers natural ventation along the ridge of the facility.
R1.5 insulation value.
99% light penetration.
Diffused light for maximum benefit without hot spots.
Decreases amount of electrical lighting use necessary resulting in energy savings.
Maintenance free.
10 Year manufacturer's warranty.

Dura-Lite Ridge Vent Stats
---